Team Roping Software Features
Roping Assistant Professional 6.0
Team Roping Software at its Finest...Tried and Proven for over 25 years!
The Roping Assistant Pro is the newest way to improve the quality of your team ropings. It's a powerful computer program that was designed by team ropers to meet the needs of today's team roping events.
The Roping Assistant Pro provides you, the roping producer, with a simple alternative to the paper work hassles associated with running a team roping event. No more hand-written team listings with penciled-in changes. No more headaches with trying to arrange the teams so they are appropriately spaced for roping.
The Roping Assistant Pro is a tool for (not a replacement for) the people running the roping. It greatly simplifies the process of ordering your ropings and brings power and flexibility to your entire roping. It gives you COMPLETE event tracking, including teams, times, winners and money! From roper sign-up to printing checks, the Roping Assistant Pro makes it easy!
Here are just some of the features of the Roping Assistant Professional:
• Live Roping support
• Complete support for the EDGE rating system.
• Rank your teams by average time, round time, or by individual header/heeler times
• Track Incentive Teams and teams with "Free" drawpot runs
• Create reports for money winnings and cattle runs by round and rotation
• Allow quick manual spacing adjustments
• Print winner summaries and signoff sheets, and even print the payoff checks
• Allow completely flexible payoff and winner calculation system
• Track and pay winners in the average, round(s), overall rounds, incentives, fastest on two rounds, etc.
• Track buybacks, rolled teams, penalties, prize money, etc.
• Built in address labels for your ropers
• Connects to the Farmtek timers to automatically enter your times
• Supports ride-in ropers
• Supports sending text messages to ropers with their team numbers and positions (requires internet connection)
Just take a look below to see how easy it can be to let Roping Assistant PRO take the hassle and headache out of every part of your roping.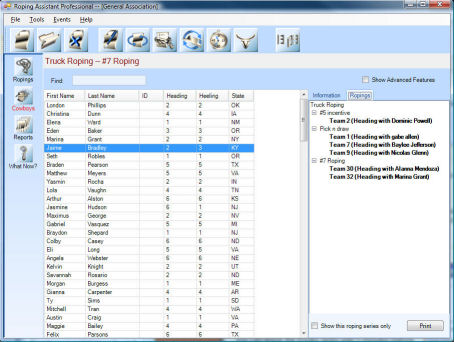 The Roping Assistant keeps track of the cowboys with their addresses, association numbers, ratings, etc. To sign up for an event they simply need to turn in a card for each entry they want in each event. These cards can be quickly entered into the computer. Also, since the computer can arrange the roping teams in a matter of seconds and then print team listings to post, you can leave the books open until 5 minutes before the event starts! You can also see all the ropings a cowboy is in just by clicking on their name.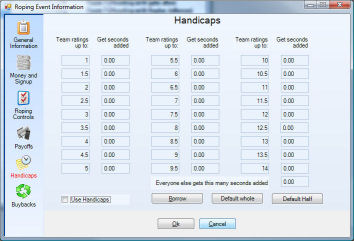 With The Roping Assistant you can quickly customize the handicaps to whatever system you use, and then turn handicaps on or off at the touch of a button.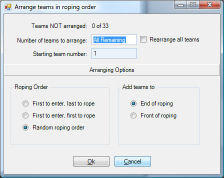 The Roping Assistant gives you incredible flexibility when it comes to arranging teams for ropings. You choose the type of roping format, and then tell Roping Assistant how to order the teams. You can even add late teams without affecting your current order.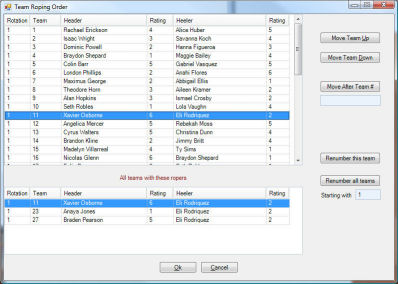 Once the computer has ordered the teams you can manually adjust them, if you wish. It will show you the other teams they are roping on so you don't move them too close to each other.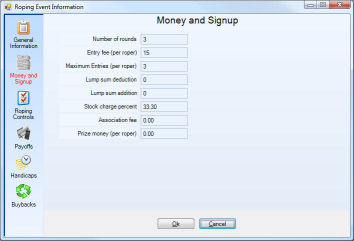 Customize every aspect of your roping, just the way you run it. From handicaps and buybacks, to entry fees and payoffs.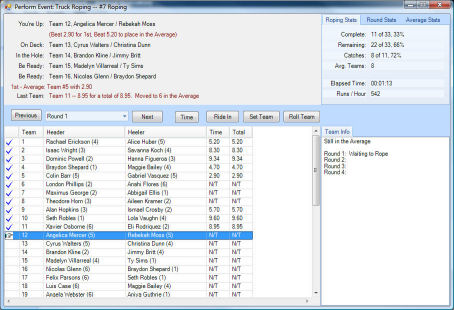 Enter all your roping times as they happen for live statistics and current winners. You can even connect with the Farmtek Timer to automatically enter your roping times.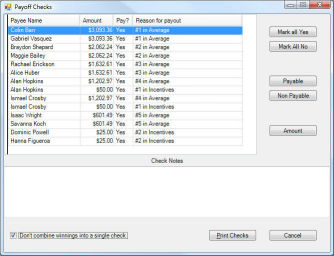 The Roping Assistant PRO will not only calculate winners and payoffs, but you can even print the checks! You can print separate checks or combine their winnings into a single check with a list of the amounts broken out.

As you can see from the screen shots above, The Roping Assistant Pro is Simply Powerful! It will ease every aspect of running a professional roping tournament.
Download a demo version today to see how Roping Assistant PRO can simplify and professionalize your ropings, so when the dust settles and the roping's over, you can go home with the rest of the ropers!
Team Roping Software Products
The Roping Assistant Pro is a computer aided Team Roping Software program that was designed to meet the needs of today's team roping events. The Roping Assistant will take all your sign up entries, arrange the teams in any order you would like, for any type of event, and then print team listings to post and time sheets to run the event.
Why should you use the Roping Assistant Pro?
Ropers like the accurate and timely printed team postings.
Ropers know that their sign up order is strictly observed when roping.
You know exactly which cowboys attended any given roping.
You can draw your drawpots, round robins, and pick-n-draw ropings instantly.
You can add your own handicaps to any roping.
But it doesn't stop there...Just take a look at the latest features below to see what the software can do for you.
Product Features
Event Signup
• Maintains cowboys & addresses for mailings
• Cap roper entries on a team rating or individual roper rating
• At your discretion, you can allow ropers to rope together more than once
• Auto team arrangement & spacing
• Separate Header/Heeler ratings
• "Late Entry" Support
• Ride-In ropers on the fly
• Quick team ordering (for manual spacing adjustments)
• Team spacing preference
• Allows "team sequencing" (preserves "First to enter, last to rope" sequences)
• Draws events in "First to Enter, Last to Rope", "First to Enter, First to Rope", or random order
• Catches illegal entries at signup (ratings too high, switch-enders, etc.) Data Management
• Manages multiple (separate) associations with their own cowboys, ropings, etc.
• Backup & restore data easily
• Custom data fields for each cowboy to track your own data
• Completely new database backend to avoid database corruptions
• Incentive Team Tracking
• Automatic header/heeler balancing drawpot mismatches
• Mailing list exports
• Flexible rotations
• Custom handicaps (including half numbers)
• Determines winners by average, fastest on two, incentives, fastgo, overall fast times, etc.
• "Free" runs tracking for uneven drawpots
• Enter roping times and penalties
• Connects directly to the Farmtek Timer to get times
• Keeps a ticker tape from your farmtek timer
• "Real Time" statistics as the event runs (fastest teams, current winners, etc.)
• Numerous ranking and winner statistics and reports
• More flexible payouts
• Supports the new Plus system for handicaps
• Tracks multiple Team Ropings, each containing multiple roping events
• Drawpots
• Round Robins
• Pick-N-Draws
• Numbered Ropings
• Tracks "Buybacks" and runs buyback round
• Flexible reports (print preview, headers & footers, font sizing and spacing, etc.)
• Option to print reports directly (instead of editing first)
• Print team ranges
• Export reports to PDF or Microsoft Word format
• Pre-Draw reports
• Team listings for posting
• Time sheets
• Combined participants listing for multiple events (detailed or summaries)
• Team ranking reports
• Roper ranking reports
• Payoff & winnings reports
• Combined money winnings over multiple event
• Cattle runs report
• Callback sheets by fastest or slowest team first
• Print winners checks and summaries
• New and improved user interface on many features
• A What Next feature to help you when you get stuck
• Powerful filtering for selecting cowboys to generate labels for Improved timing screen for running the roping with more information
• Much improved network connectivity
• Connect unlimited clients to one server at no extra cost
• Runs on 32 bit and 64 bit windows operating systems (Windows XP, Vista, Windows 7)